Xylem Water Solutions Global Services AB | Wallrite Installation Team
Welcome to our project page for Wallrite Whiteboard Wallpaper, your solution for creative and interactive surfaces.
Since the early 2000s, we have successfully delivered and installed Wallrite Whiteboard Wallpaper in schools, offices, and hospitals around the world. Our solutions include our Wallrite Whiteboard Wallpaper, as well as white and transparent whiteboard paint, magnetic walls with customized patterns and layouts created entirely according to our customers' own desires. Explore our projects and see how we can transform your spaces into dynamic work environments.
Project King - Wallrite Dry-Erase Whiteboard at the Office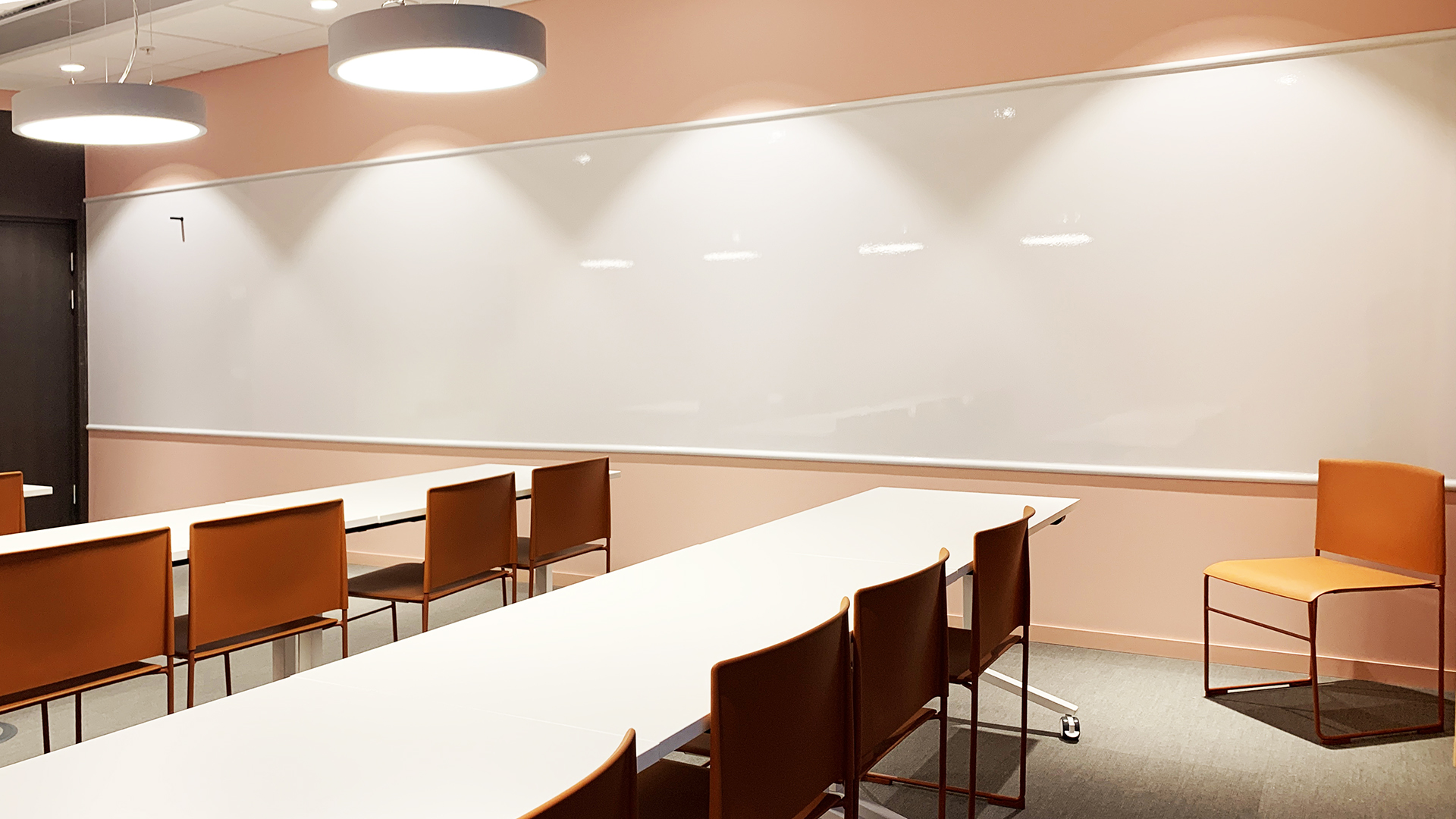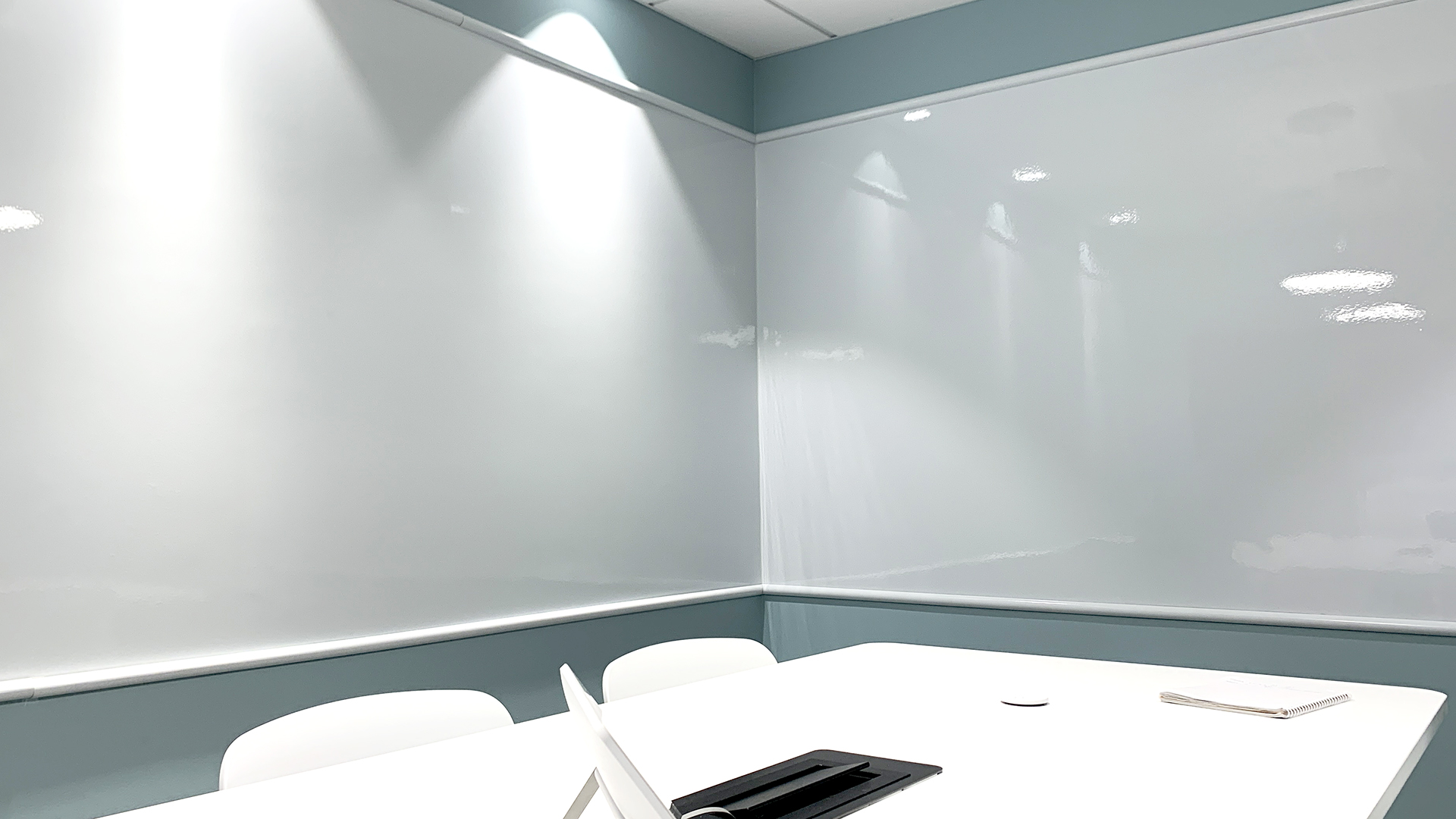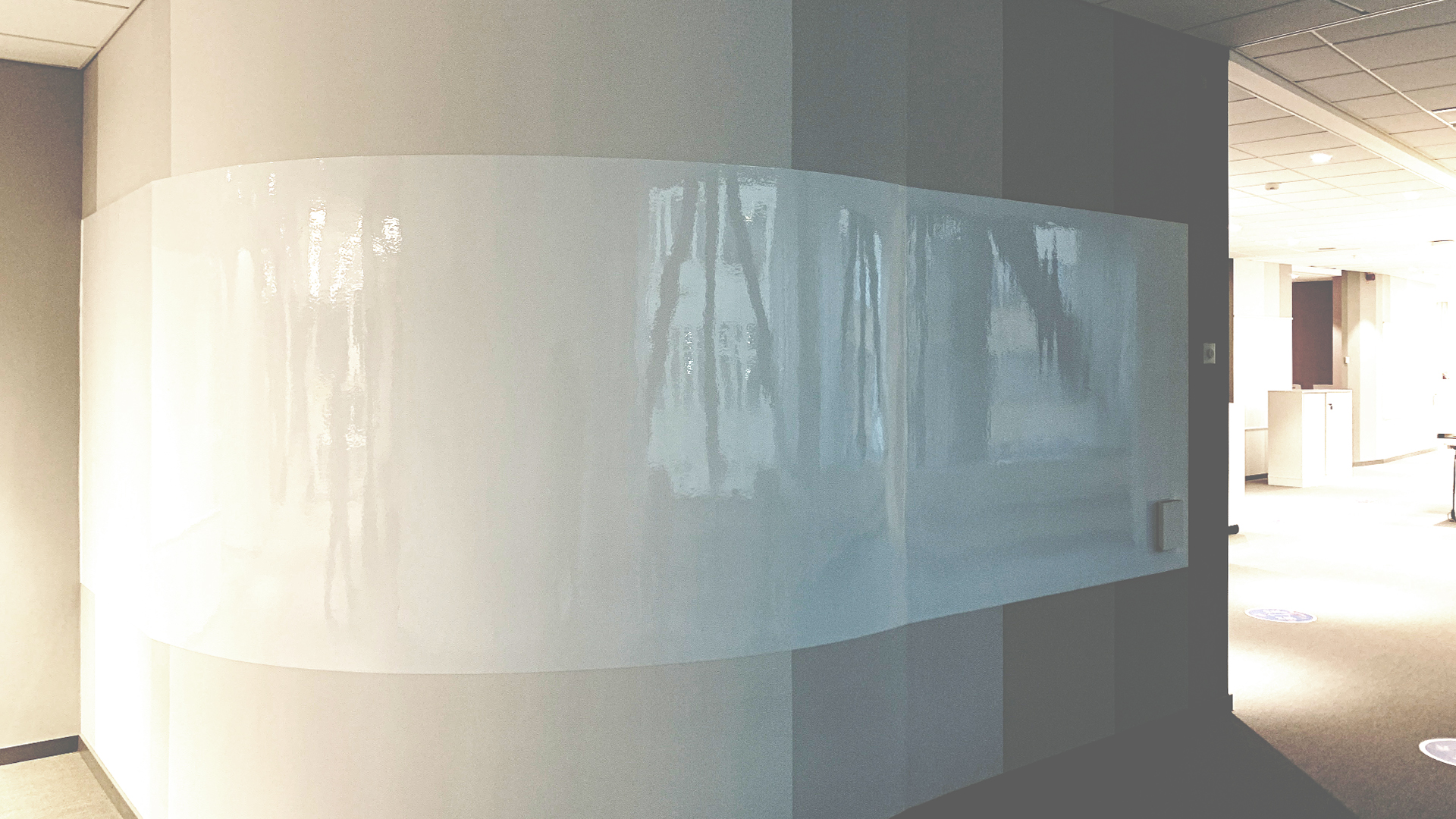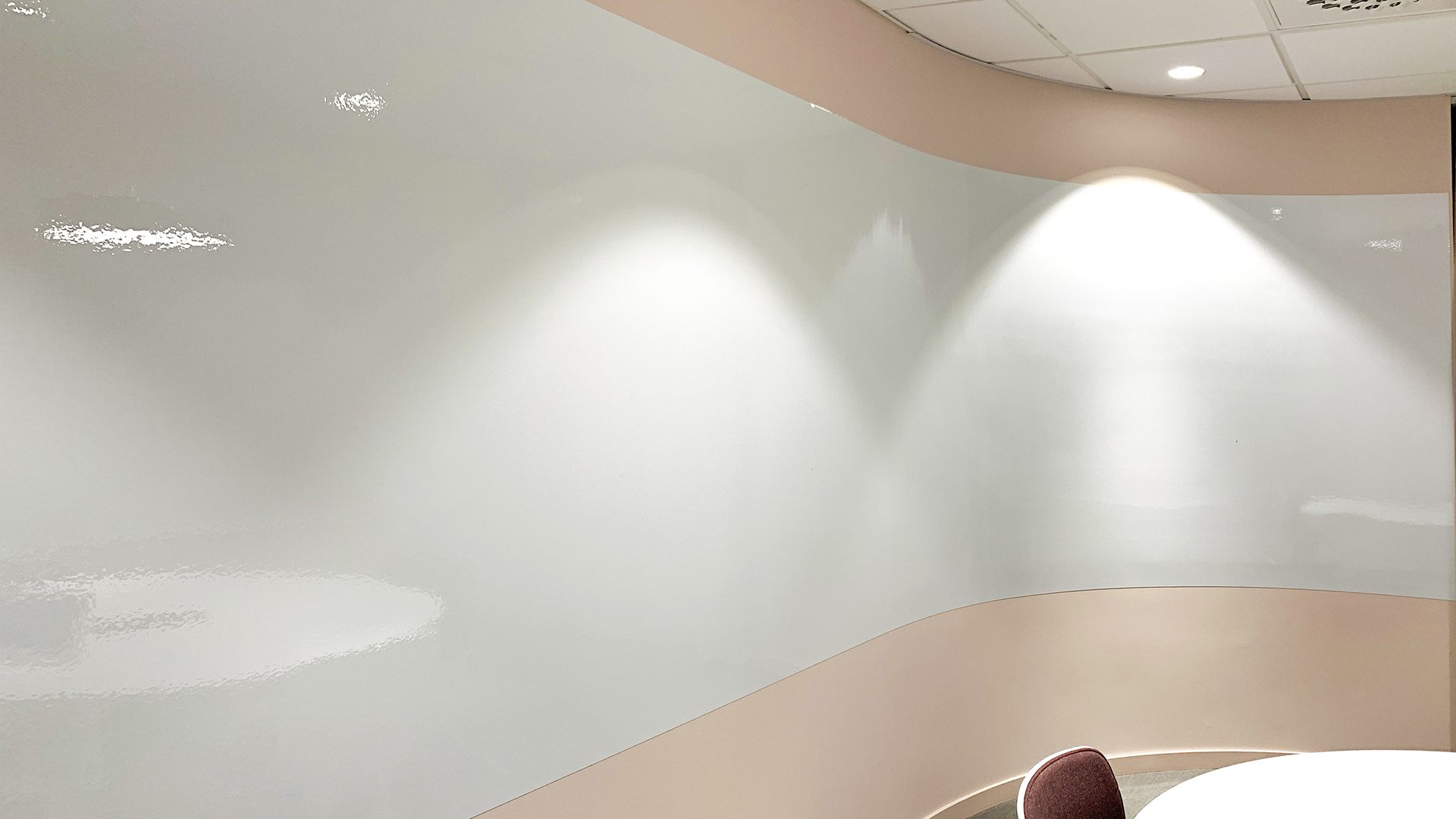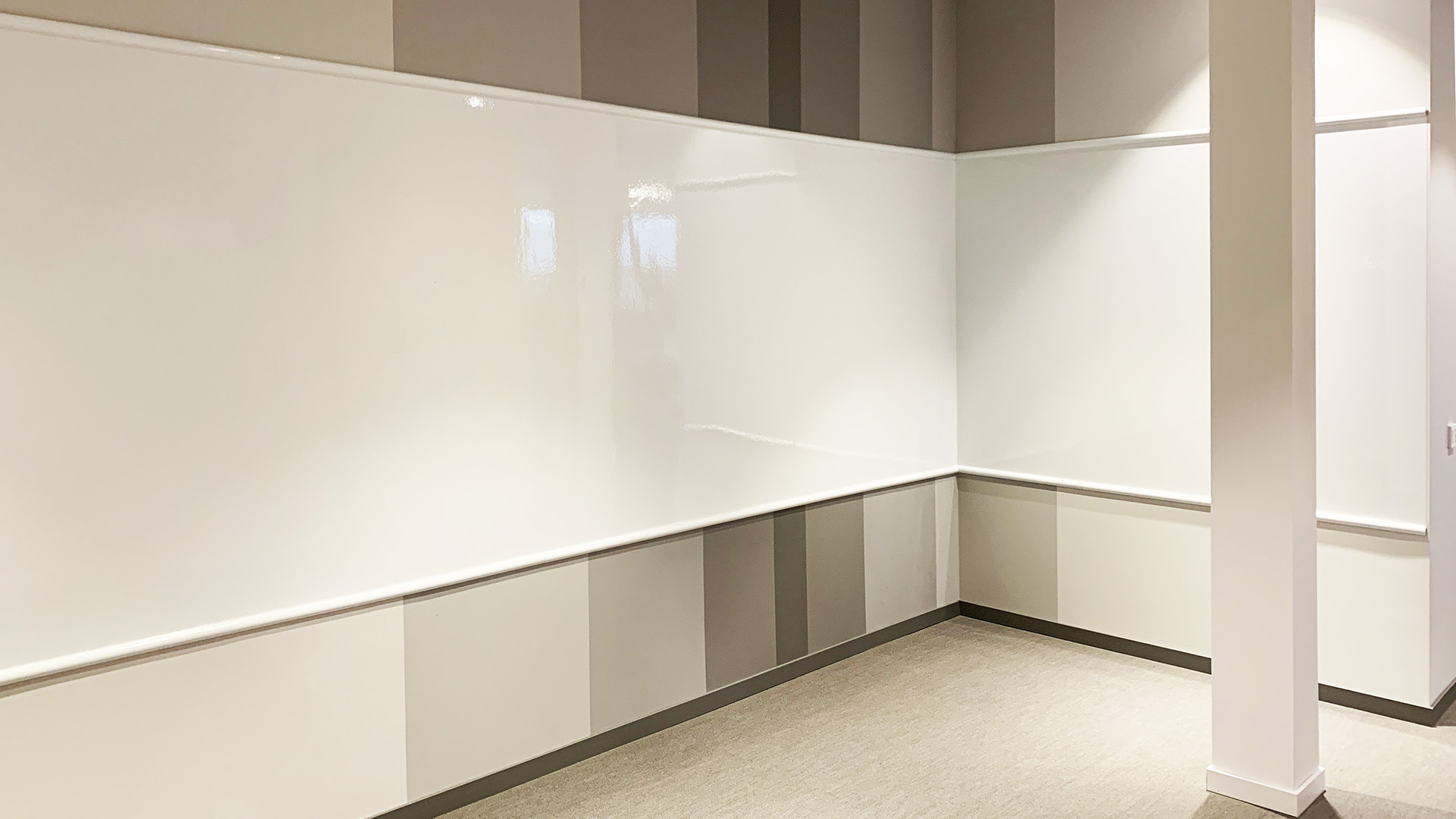 About King and Others
Isn't it amazing that it's Swedish youth behind some of the biggest gaming and software development companies in the world? In Stockholm, you can find several of these, and we at Wallrite can proudly state that many of these companies have chosen to decorate their offices with Wallrite Whiteboard Wallpaper, now installed in many of their offices not only in Stockholm/Sweden but also in places like New York, Boston, Chicago, San Francisco, and Los Angeles in the USA. We have also delivered to Tokyo/Japan, Sydney/Australia, Mexico City/Mexico, Toronto/Canada, among other cities in the world and in Europe.
The Vision
Successfully developing software, regardless of the application, is fundamentally a very structured team effort that requires process tools. All development processes need large, many, long, and generous spaces to visualize how work is progressing. When one of the world's leading game development companies was moving to its new office at Sergels Torg in Stockholm, the Architect Studio Stockholm, along with its client, incorporated Wallrite whiteboard walls into conference rooms, group rooms, conversation rooms, as well as in office landscapes and corridors for the third time.
Project Objective
Once again, Wallrite was trusted to supply and install nearly a kilometer of Wallrite whiteboard wallpaper in corridors, in rooms with curved walls, on pillars, and in both small and large rooms. Almost every whiteboard wall was to be equipped with a framing strip at the top and bottom. Wherever there was a need for a communication surface, Wallrite's glossy white whiteboard wallpaper was to be installed.
The Result
All delivered and installed according to plan
Whiteboard wallpaper on nearly 1000 m for
10 floors, meeting rooms, project rooms, conference rooms, and corridors
Frame strips
Whiteboard accessories
Project Widerströmska High School - Wallrite Whiteboard Paint with Custom Printed Patterns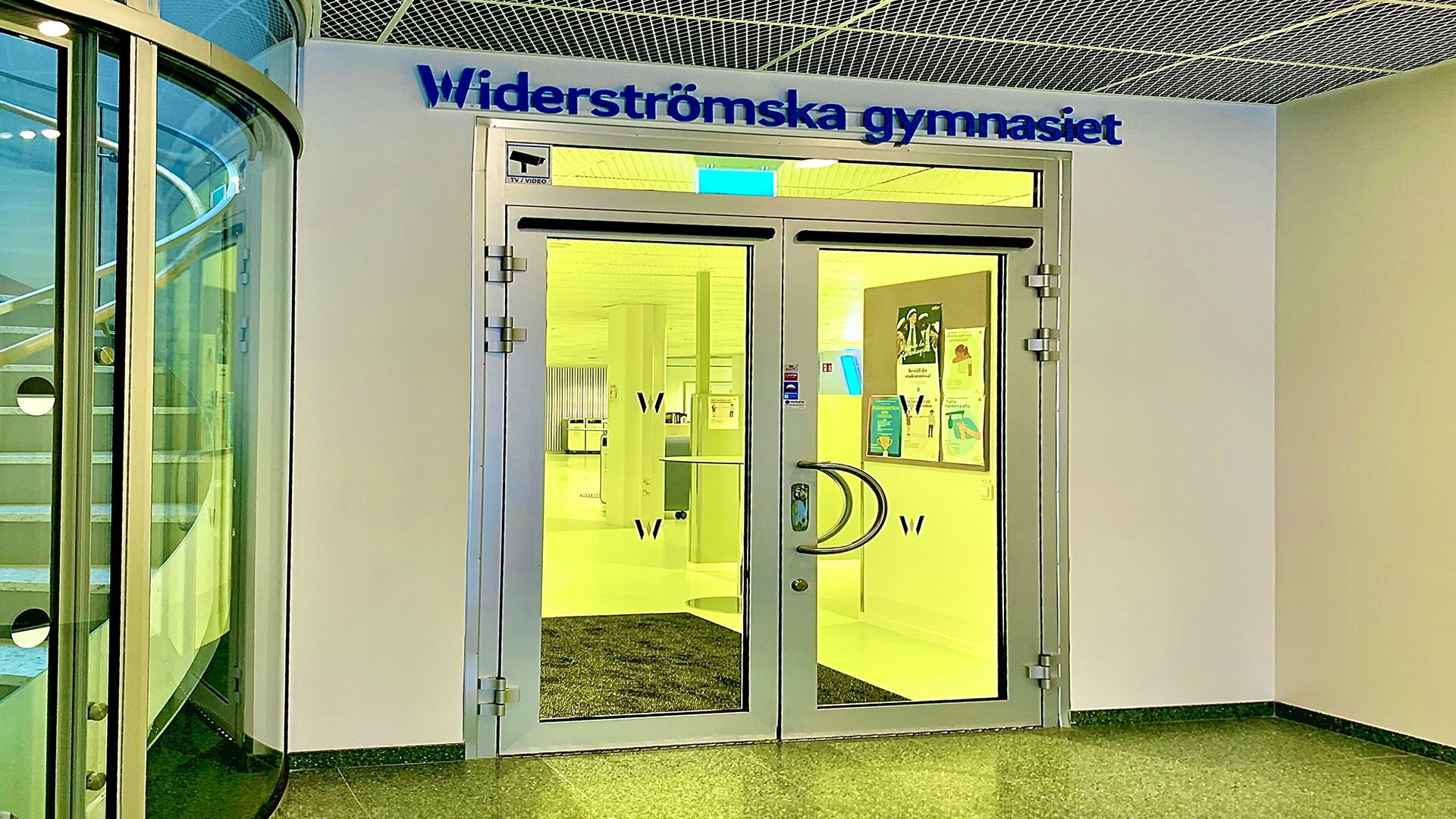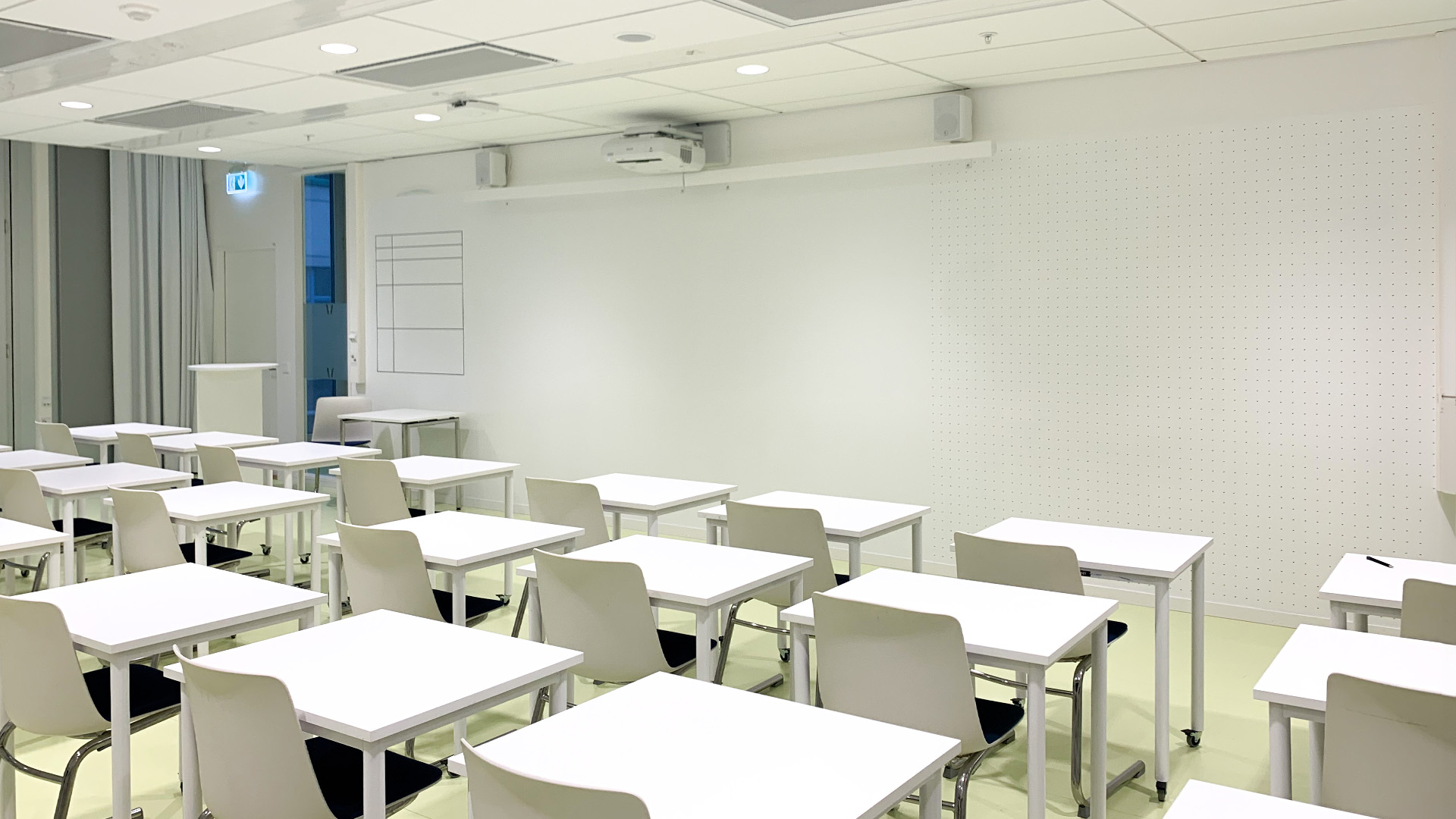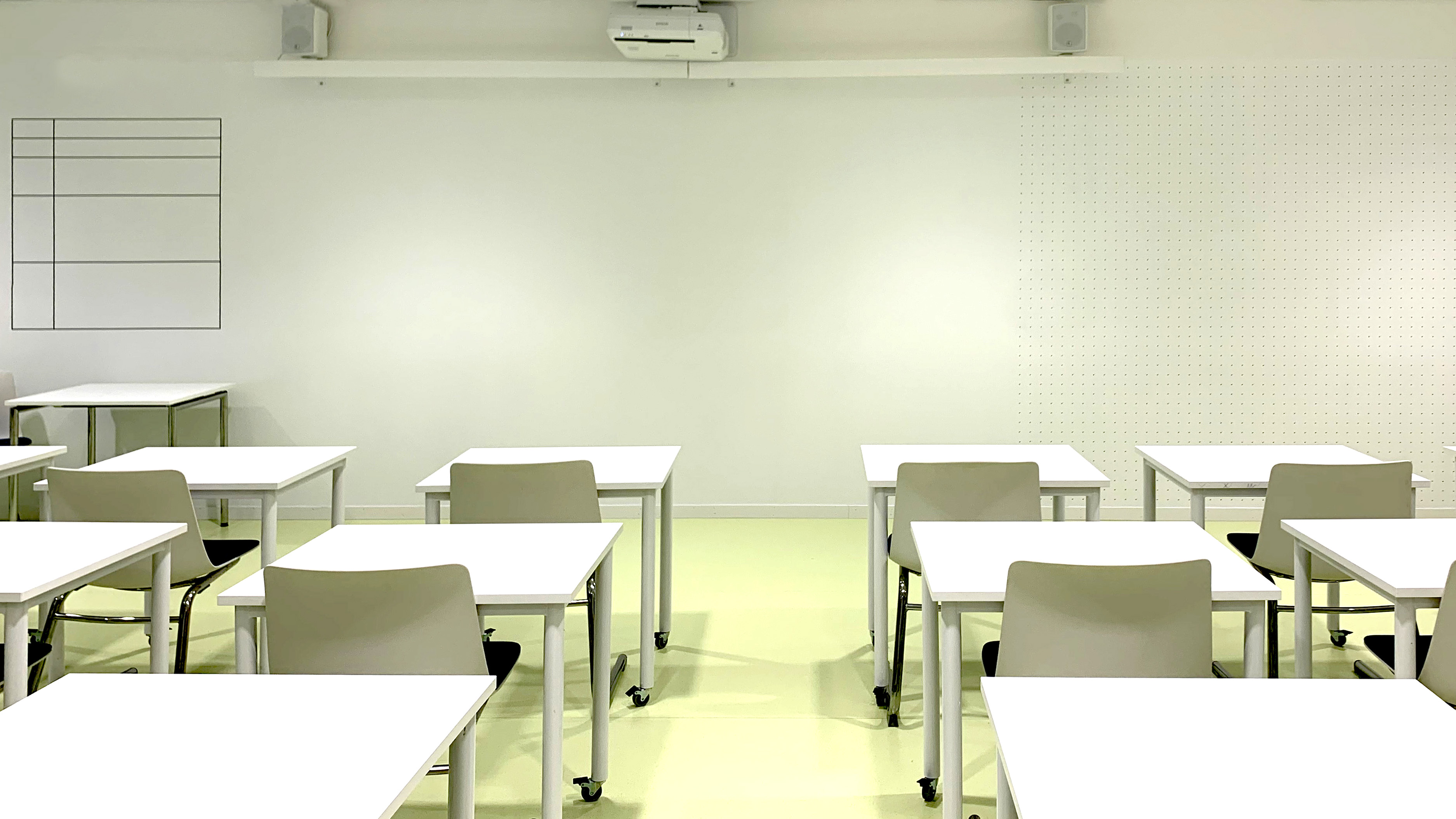 About Widerströmska
Located in the heart of what is known as Campus Flemingsberg, Widerströmska Gymnasium is situated right next to Karolinska Hospital. The school is a municipal high school that opened in 2019. By the fall of 2021, the school was fully expanded to accommodate 500 students. Students can enroll in the Technology and Science program, Economics, or Health and Social Care program, as well as a fourth year in the Technology program.
The Vision
In this unique environment, surrounded by future and current researchers, technicians, doctors, and entrepreneurs, the vision is to create a creative environment and culture that inspires learning, entrepreneurship, and innovation.
The entire school environment should spark a desire to study and provide students with favorable conditions to continue their studies.

Project Goal
The architect had prescribed magnetic walls here, painted with both white and Transparent Whiteboard Paint.
Each whiteboard wall should be divided into three parts, with the left and right parts having underlying patterns.
The left part should have a project board, the middle part should be completely white, and the right part should have a 250 x 250 cm dot pattern. These patterns are digitally cut, meaning that we design our walls entirely according to the customer's wishes.
The Result
Wallrite Installation Team was responsible for all necessary preparation of all walls.
Sanding and priming
Painting with Wallrite Magnetic Paint
Sanding
Priming with white base paint
Mounting of patterns
Painting with Wallrite Transparent Whiteboard Paint on the parts where patterns were mounted.
Painting with White Whiteboard Paint on the central part of the wall.
Daimler Benz - Wallrite Digital Wall Project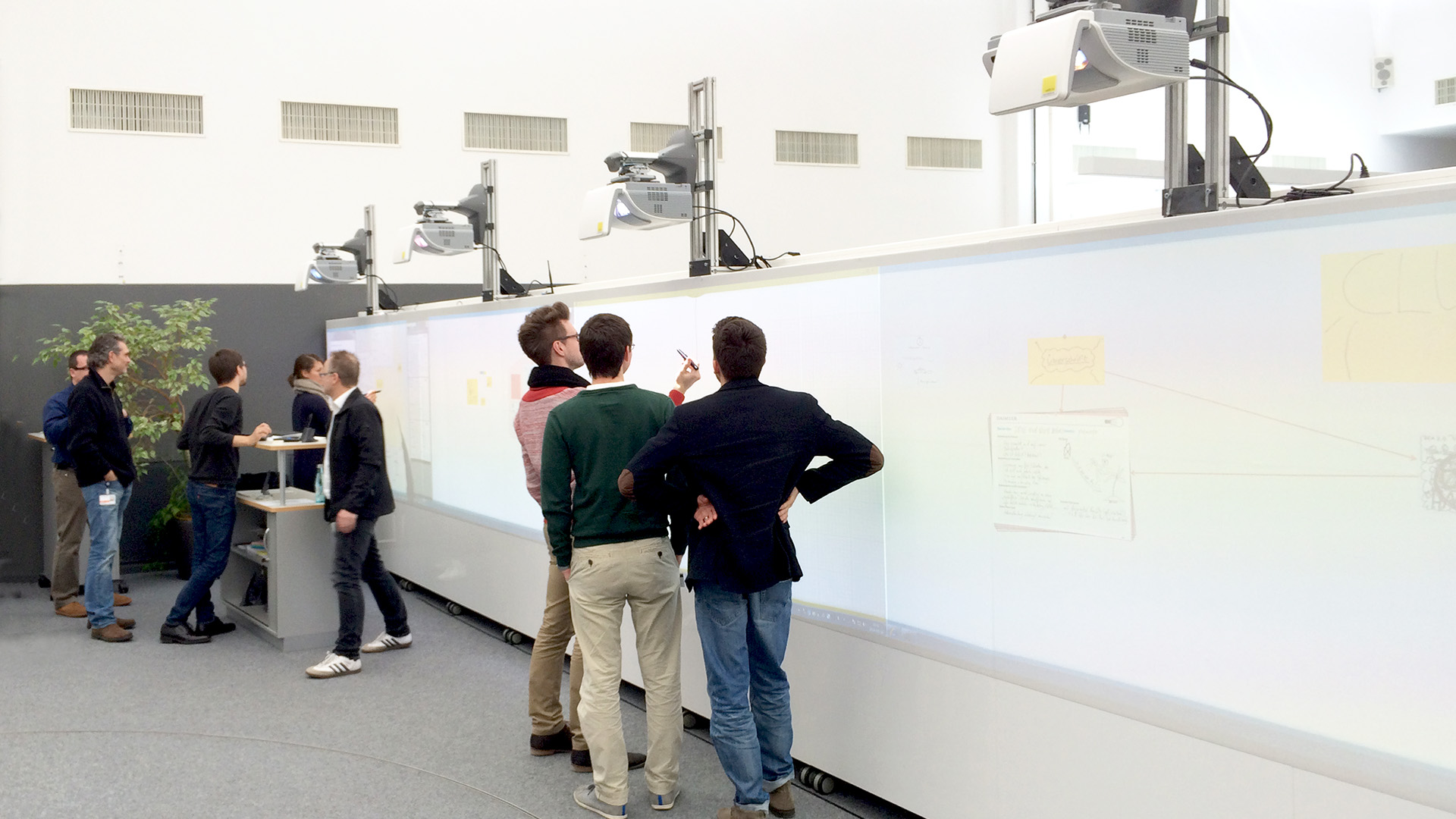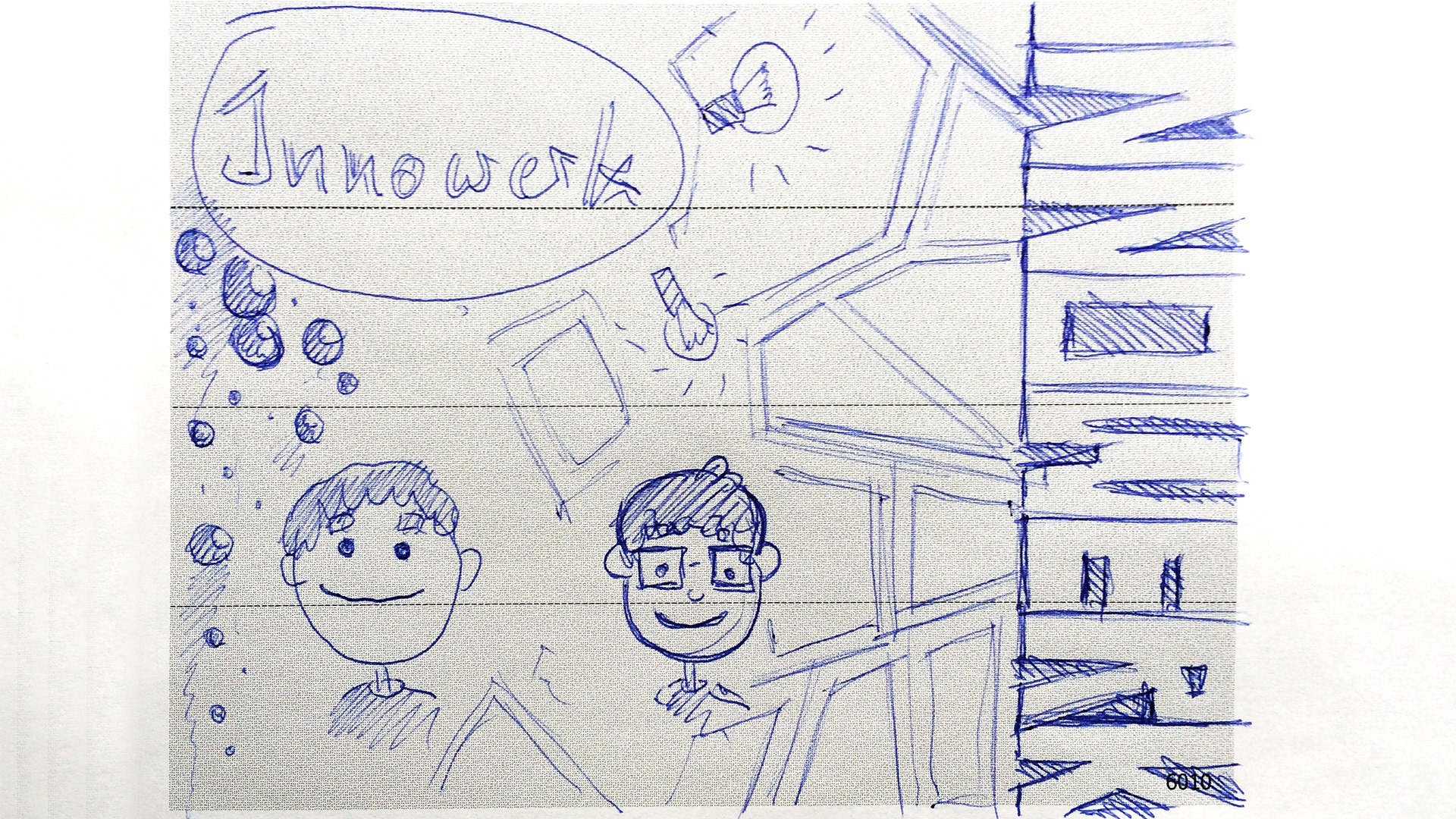 About Daimler-Benz
The Daimler Innovation Center (InnoWerk) represents the very heart of Mercedes and the "Smart's Research and Development department."
As one of the most prominent car manufacturers in the world, Daimler holds active workshops with brainstorming meetings of up to forty participants each week. These are usually held in Böblingen, outside of Stuttgart, Germany.
When Daimler-Benz stumbled upon Wallrite and We'nspire (now Hoylu), they saw an opportunity to realize their vision.
The Vision
At Daimler-Benz, we deeply believe in the pen and paper as the most effective tools in the creative process.
For a long time, a digitized workflow incorporating pen and paper has been at the top of our wish list. Neither computers nor cell phones are allowed in these workshops. Our path to excellence involves continuous openness to developing swifter and more streamlined workshop management.


Project Goal
A nine-meter long interactive digital whiteboard wall and a two-meter long interactive digital conference table.
Group sizes can vary from ten to forty people. Participants are divided into groups, and each person is to have their own digital pen and a pad of paper.
The system must be able to handle forty participants and forty digital pens simultaneously, as well as thousands of digital forms.
All materials are to be printed "in-house" by Daimler using a custom print file from Wallrite.
The Result
With the goal of digitizing the work without losing the feeling from pen to paper and wall, we did the following:
Installation of Wallrite Digital Whiteboard with software.
Installation on existing furnishings.
Digital whiteboard for a nine-meter wall space.
Digital whiteboard for a two-meter long conference table.
Delivery and installation of customized workshop software for 40 participants and 40 digital pens.
Delivery of standard We'nspire (Hoylu) software for digital surfaces.
Custom-designed digital forms and tailor-made print files.
Glömsta School - Wallrite Dry-Erase Whiteboard Project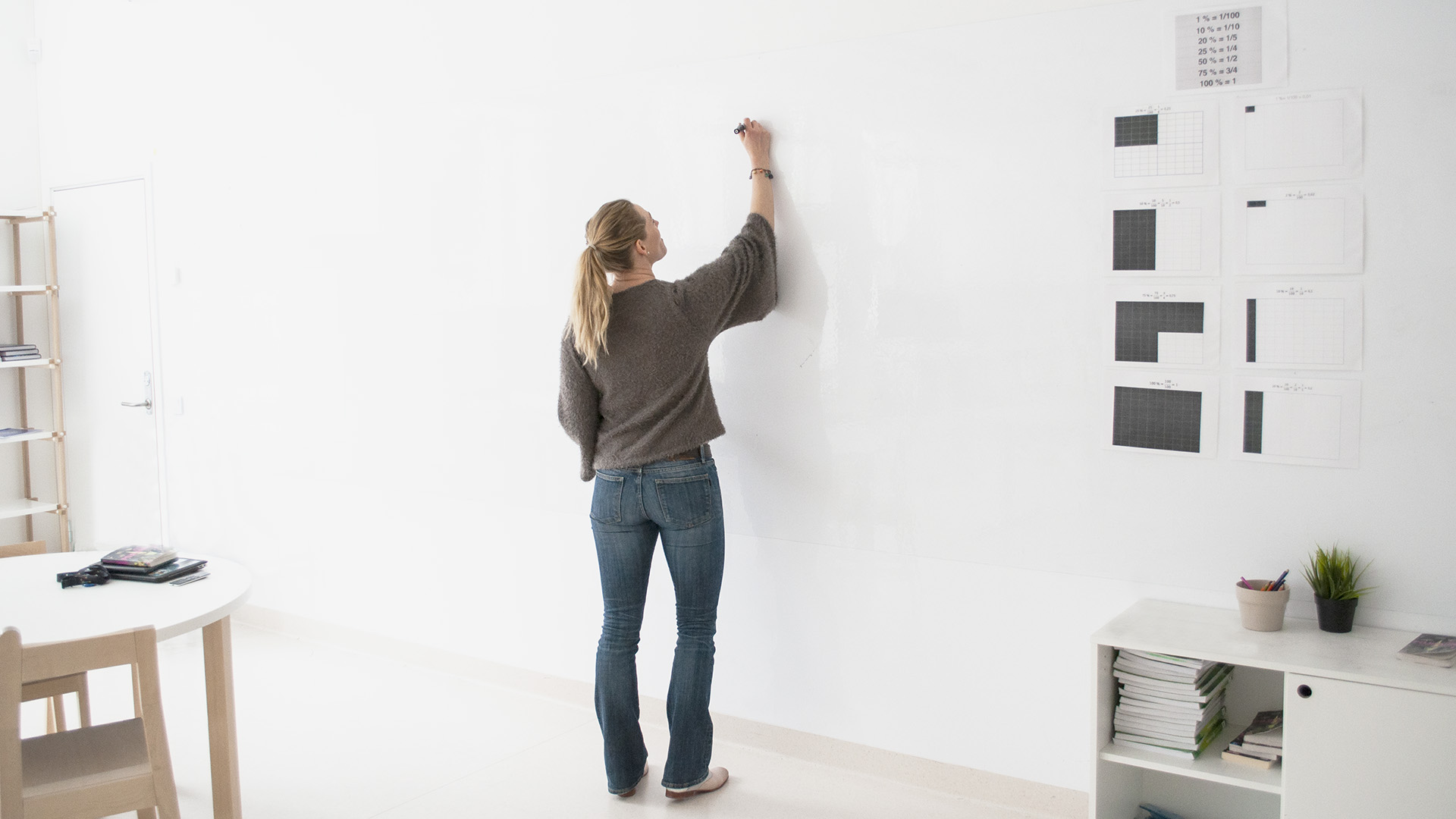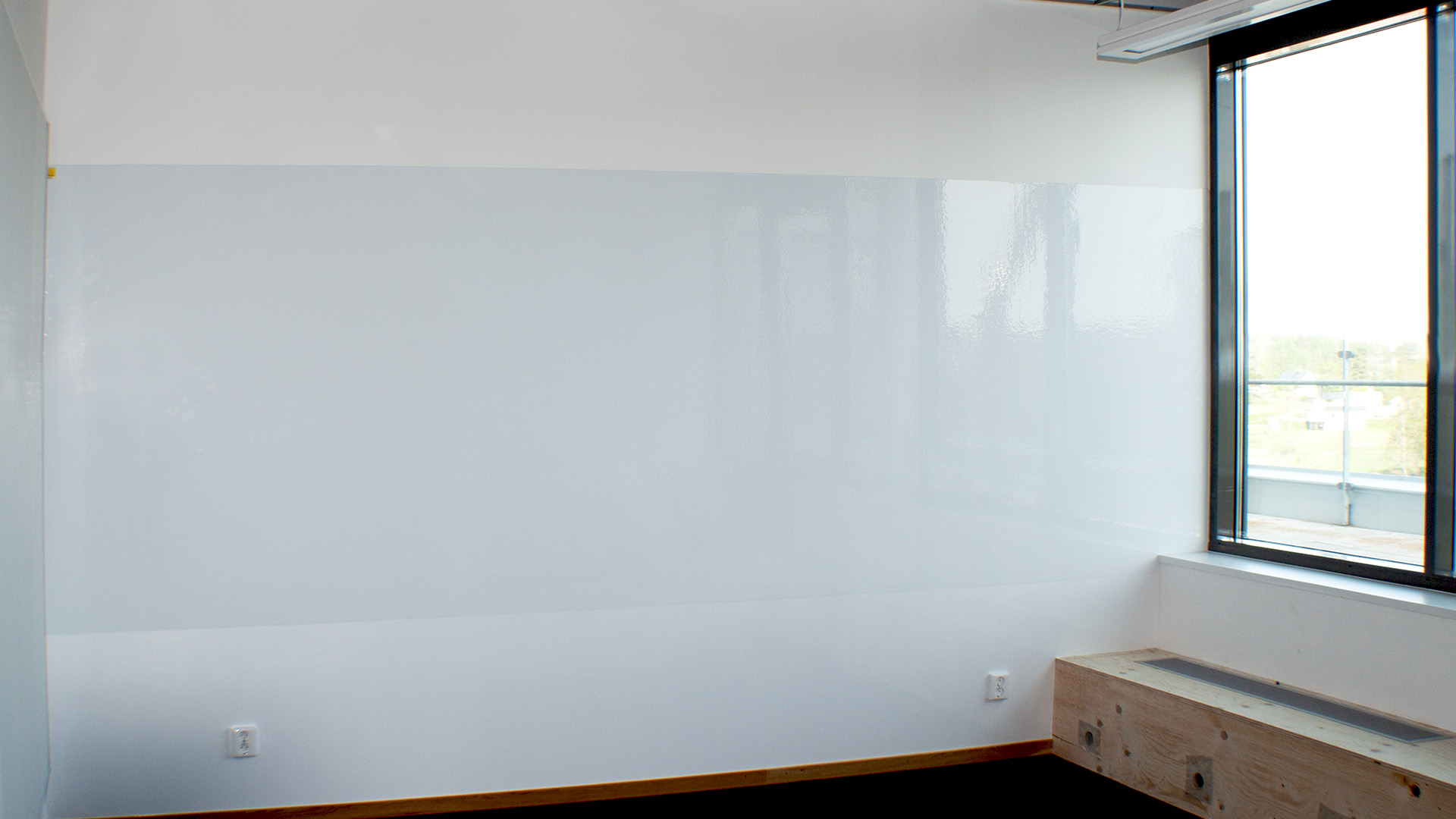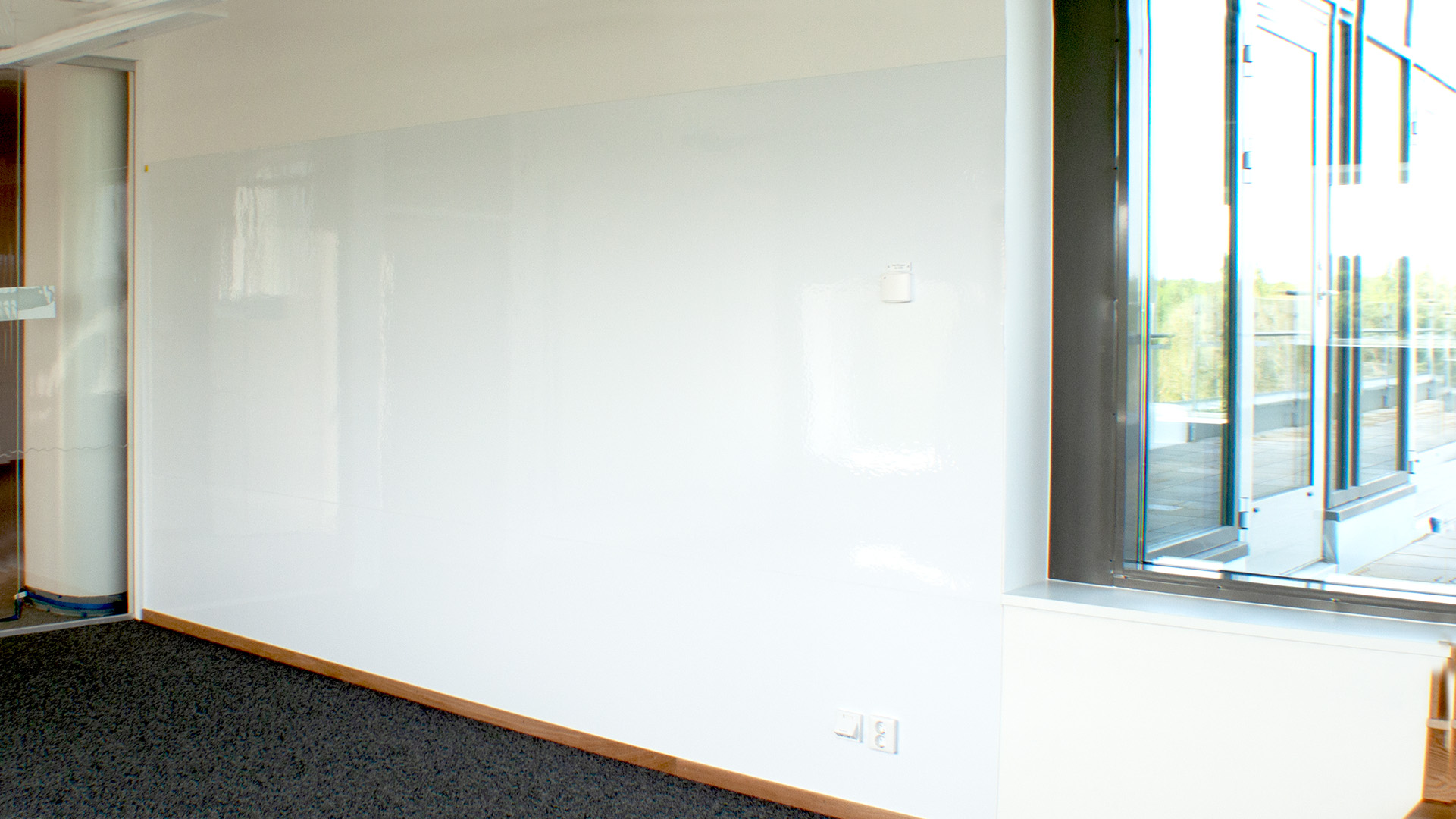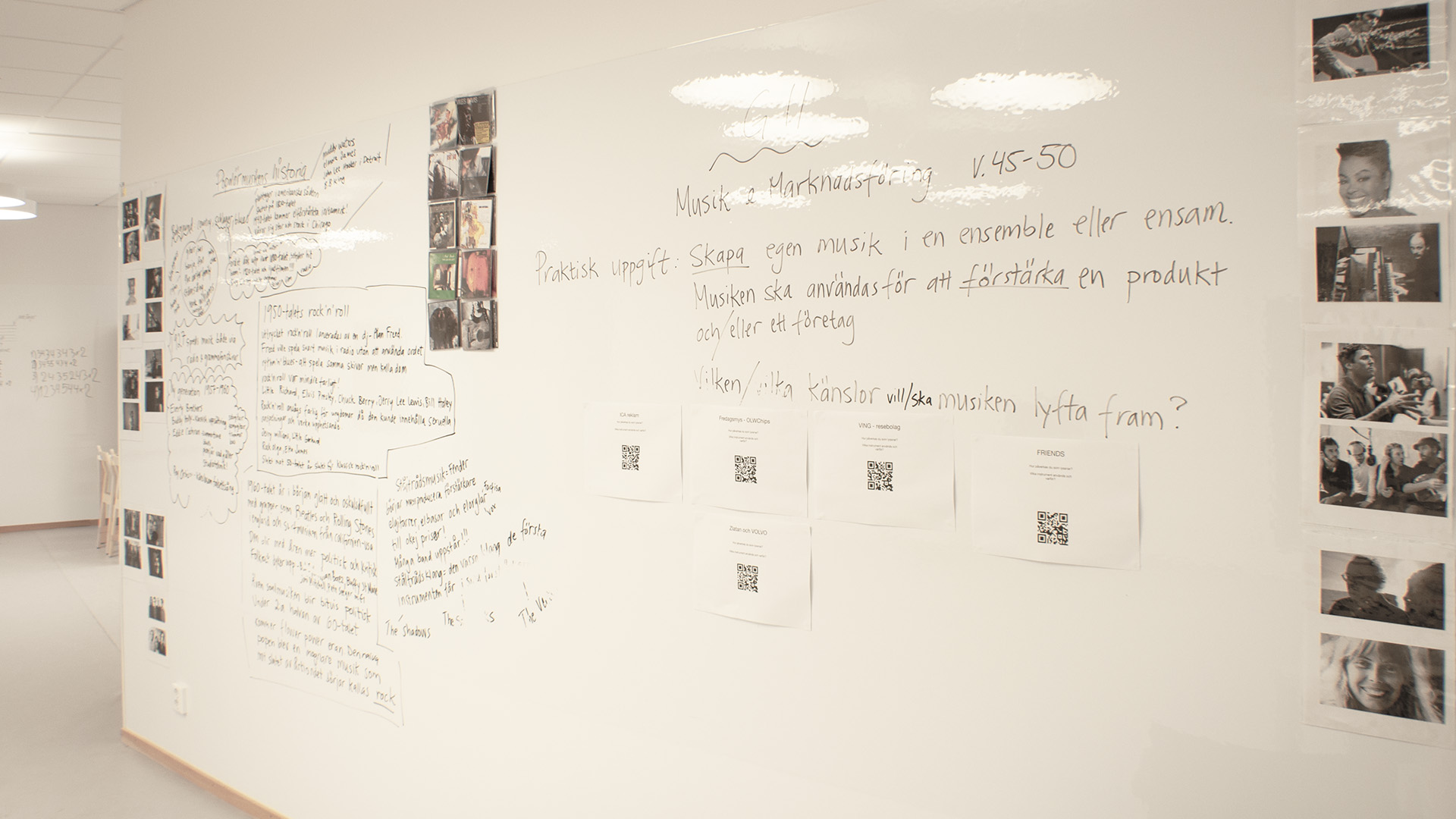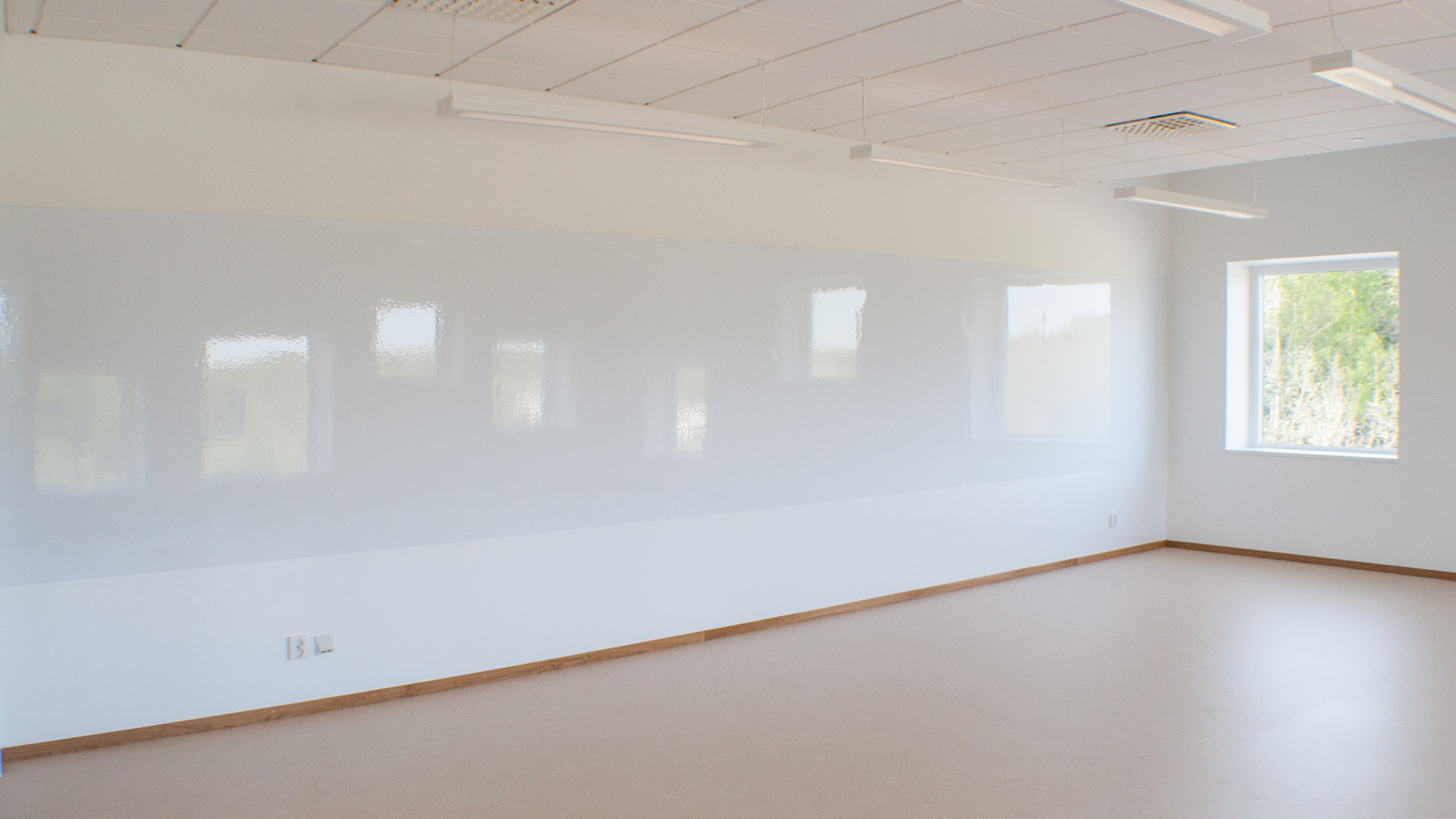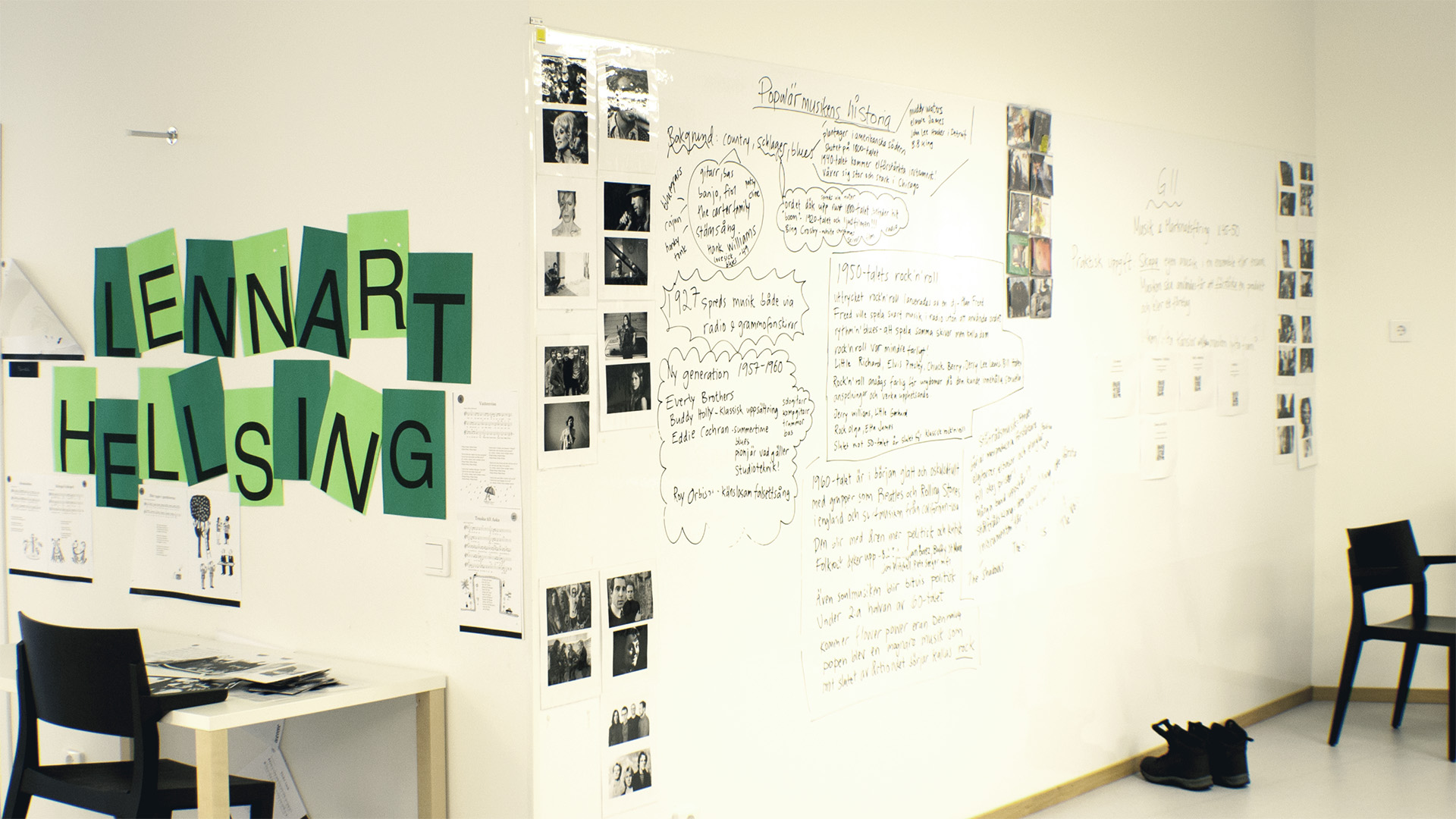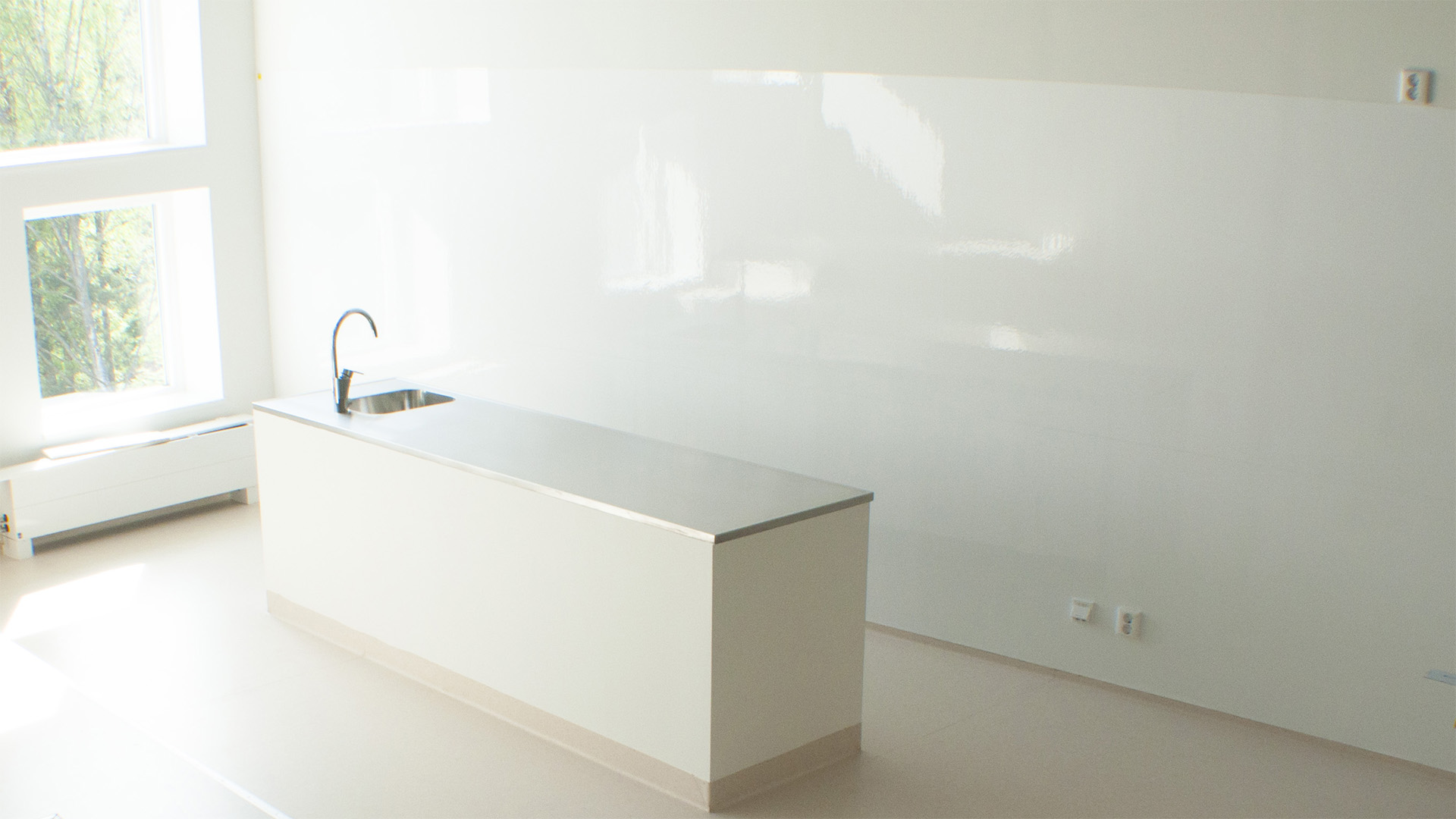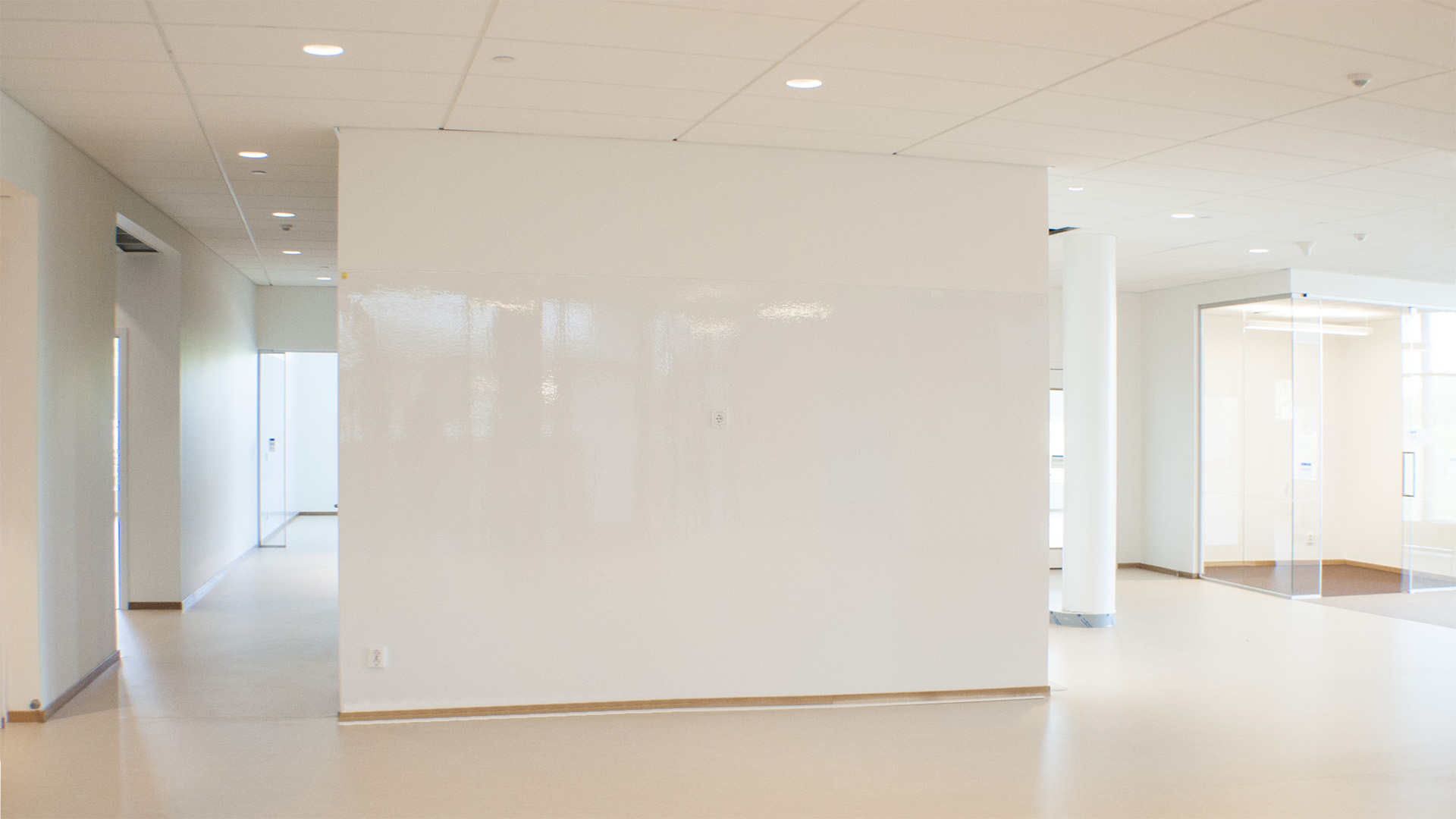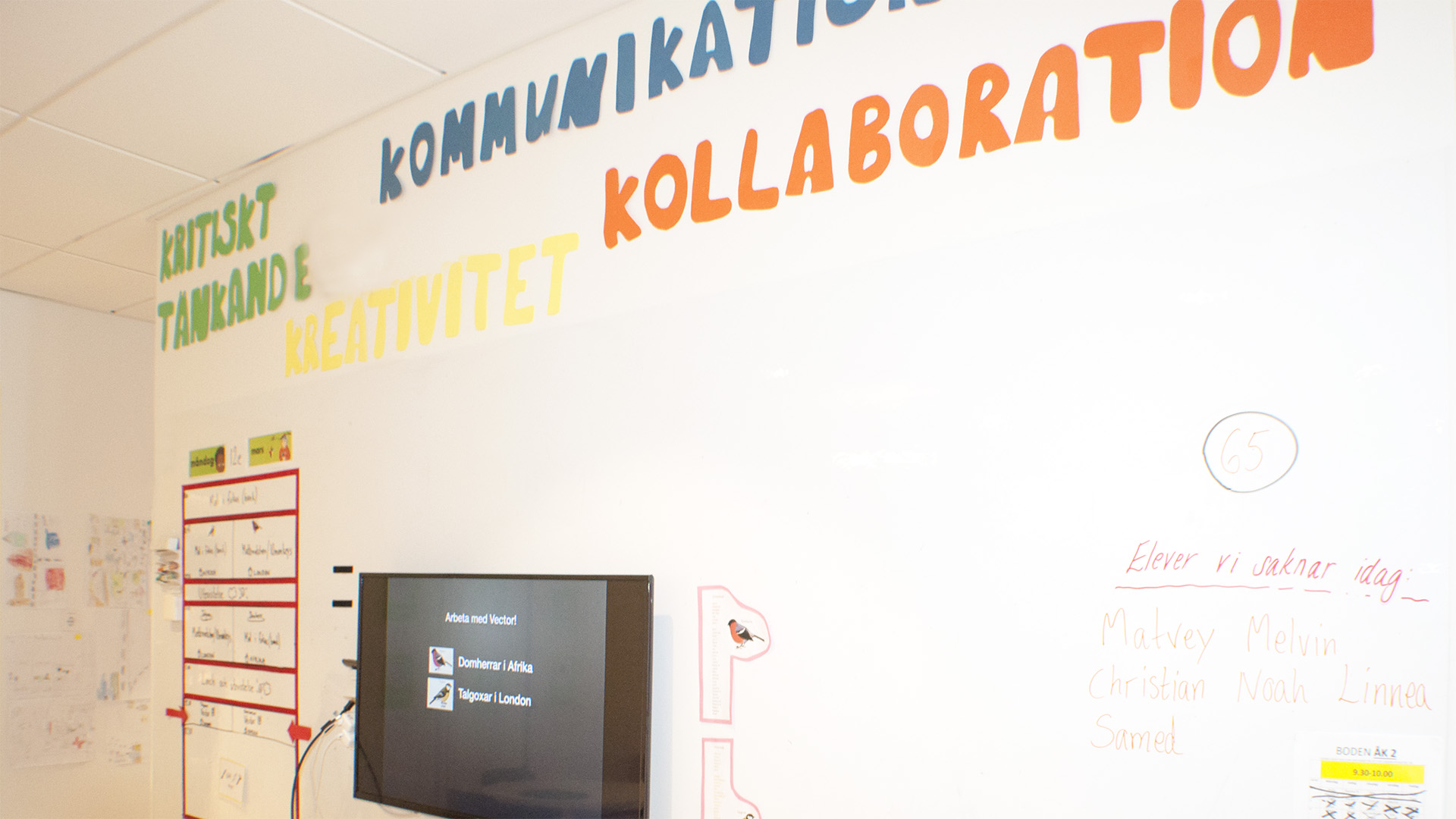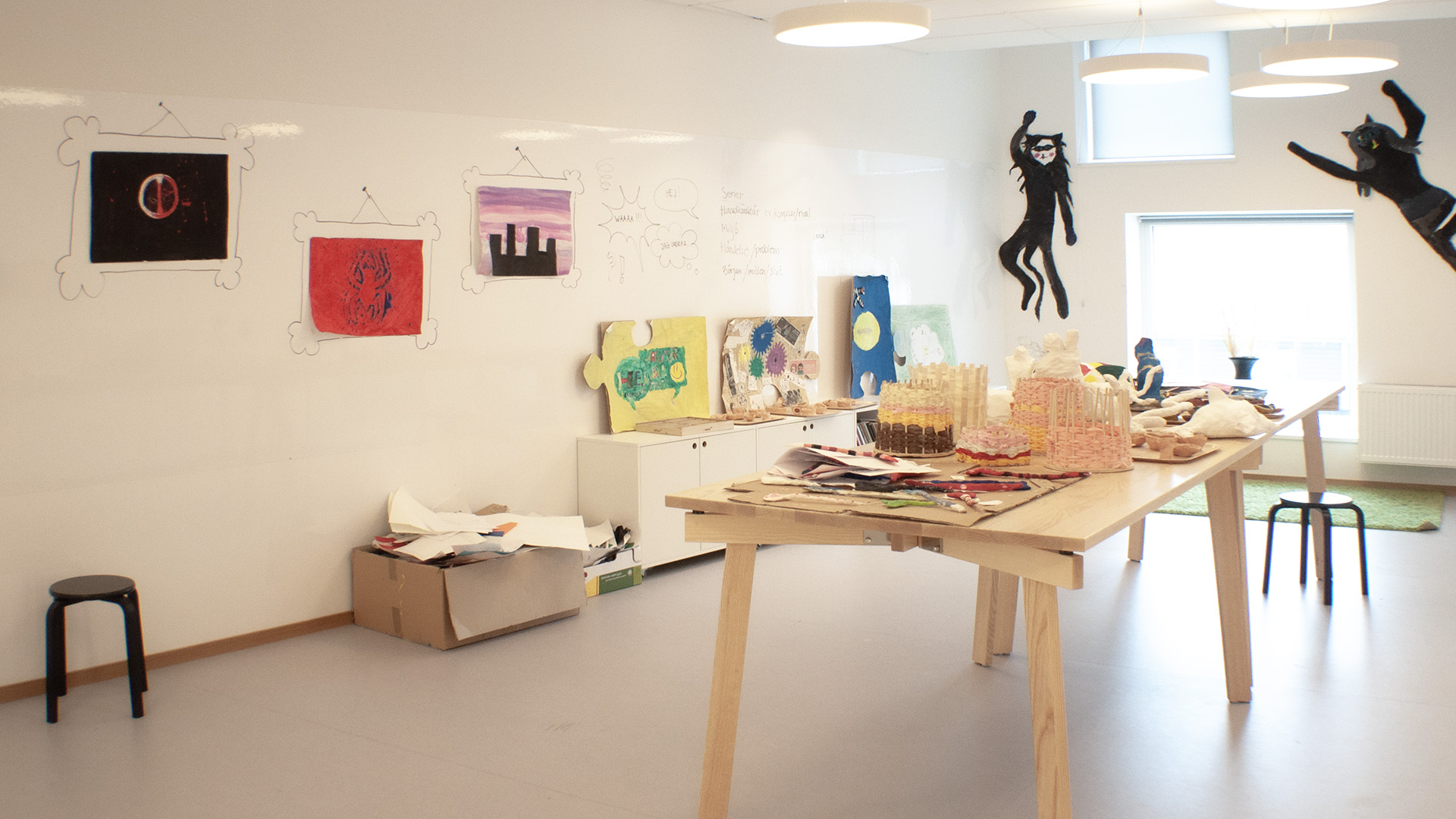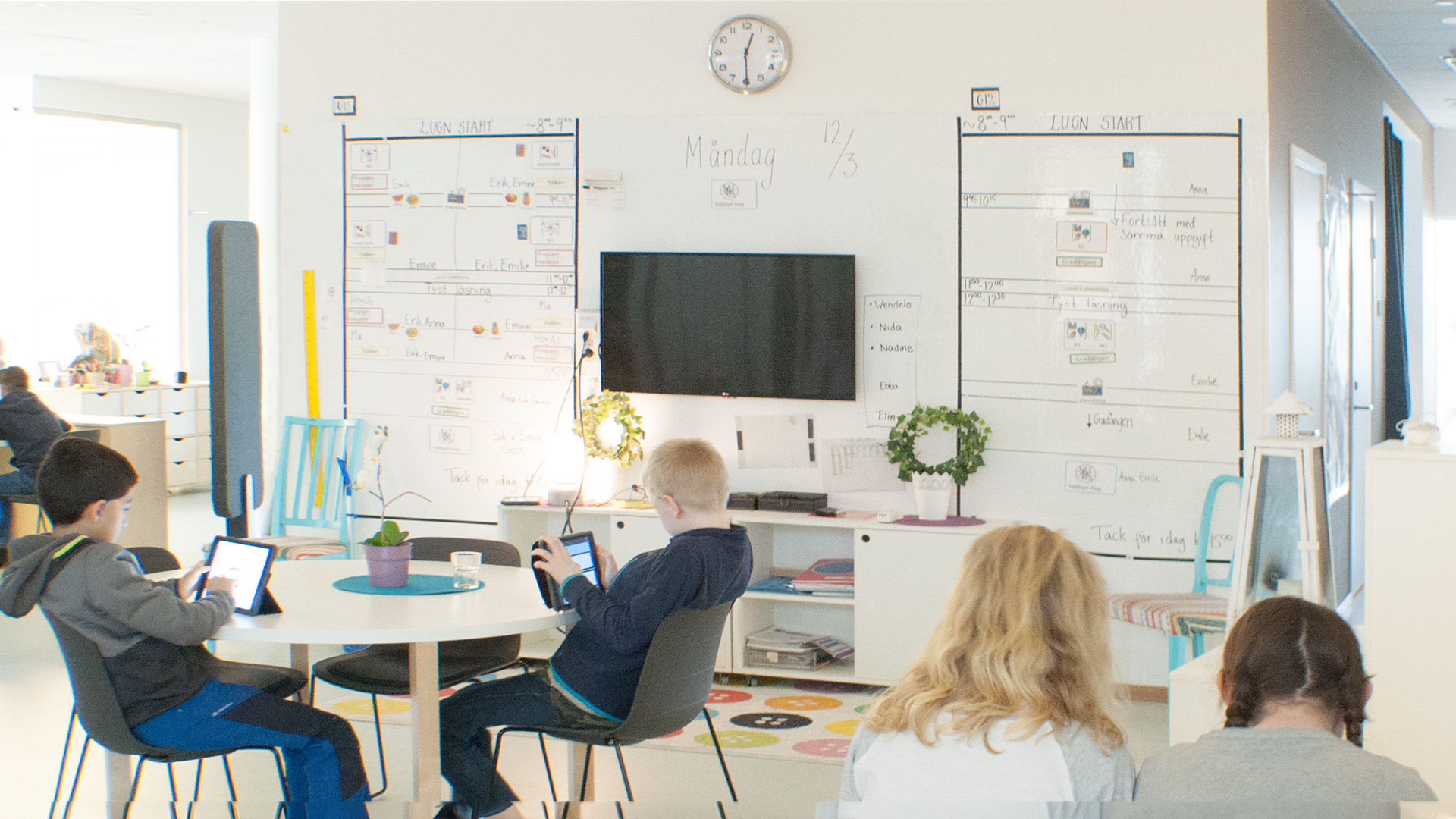 About Glömsta School
Huddinge Municipality chose to have ORIGO Architects design and Arcona build Glömsta School.
ORIGO chose to hire us at Wallrite Scandinavia AB because we deliver sustainable and environmentally friendly solutions for creative spaces. Our whiteboard solutions turned out to fit nicely into the vision Huddinge Municipality had for Glömsta School.
The Vision
Welcome to Glömstaskolan!
Where the future of communication, collaboration, innovation, and critical thinking begins.
Every room and every open space is designed to inspire and encourage curiosity and creativity in learning.
The Project Goal
To broaden the perspective on how, where, and with what tools collaborative and communicative learning occurs.
By installing Wallrite Whiteboard Wallpapers from the floor up to 220m in all classrooms, staff rooms, group rooms, corridors, and stairwells, even the youngest ones should be able to write and draw on the whiteboard walls.
The Results
We are very pleased with the positive feedback we have received from teachers, students, and school management alike.
We installed our glossy and magnetic Wallrite Whiteboard Wallpapers in varying lengths from 2-8 meters from the floor up to 220m.
The longest wall with Wallrite Whiteboard Wallpaper at Glömsta School is eight meters.
We also supplied all Whiteboard accessories.